Martino Gamper Dinner
Martino Gamper Dinner
Hotel Hotel Projects, Eat Drink

On Wednesday 24 February 2016 Hotel Hotel hosted the first in a series of experimental dinners with Martino Gamper in collaboration with RMIT Design Hub, who were exhibiting Martino's much-acclaimed project 100 Chairs in 100 Days (25 Feb – 9 April 2016).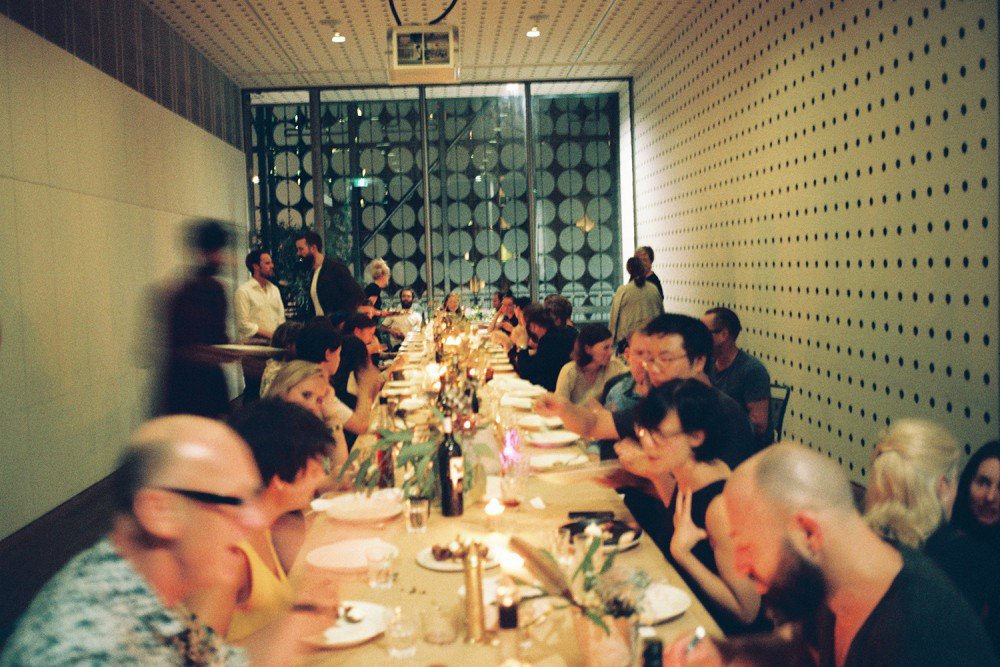 We love Martino's approach: the way he refashions existing objects into new objects, and in doing so, gives them new meaning; his understanding of how objects can tell cultural stories. These are things we think about a lot at Hotel Hotel. Martino's creative approach is also one of thinking through making. Through projects such as 'In a State of Repair' he champions repair and celebrates the craftspeople, artisans and technicians who fix things that break. These ideas are similarly reflected in some of our public programming.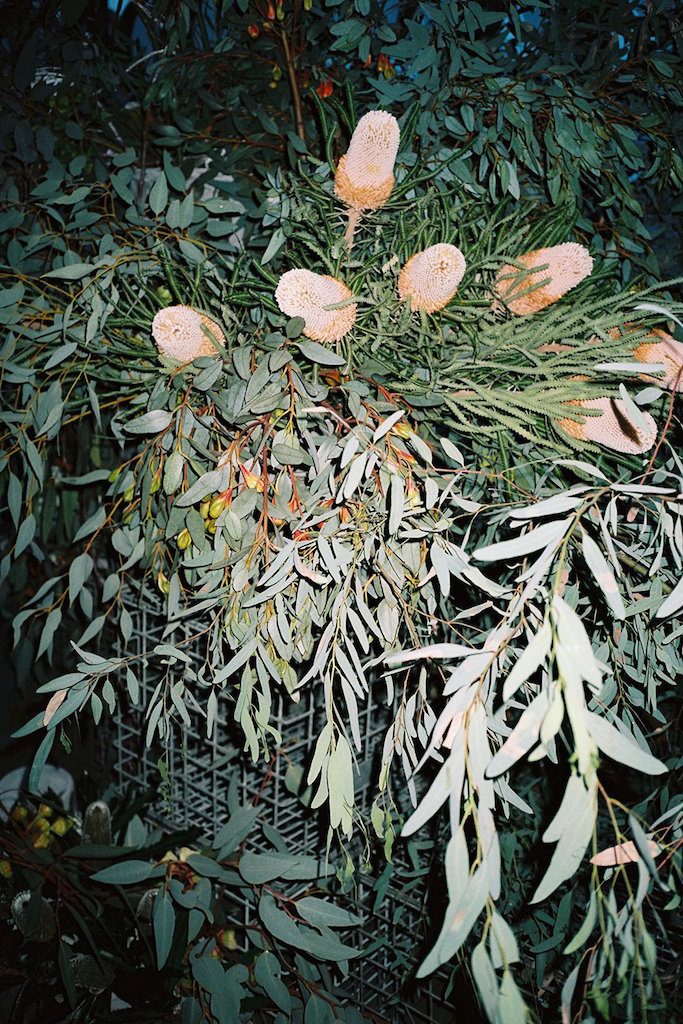 Having Martino in town seemed like the perfect opportunity to hold our first dinner. The purpose of the dinner was to bring people together to talk about things that we might not ordinarily discuss. Throughout the evening we included a few sensorial cues to encourage this. Our friends Jad Choucair and Nur Shkembi read Palestinian poet Mahmoud Darwish's 'Passport' in Arabic and English. The poem explores themes of nationality and identity, how they are built and how they are dismantled. We also asked guests to bring a much-loved wine glass, share its story, and at the end of the evening swap it with the person sitting next to them. This simple gesture reminds us of the value of sharing and exchange – how imparting something puts us in the position to receive and learn… When you give you get.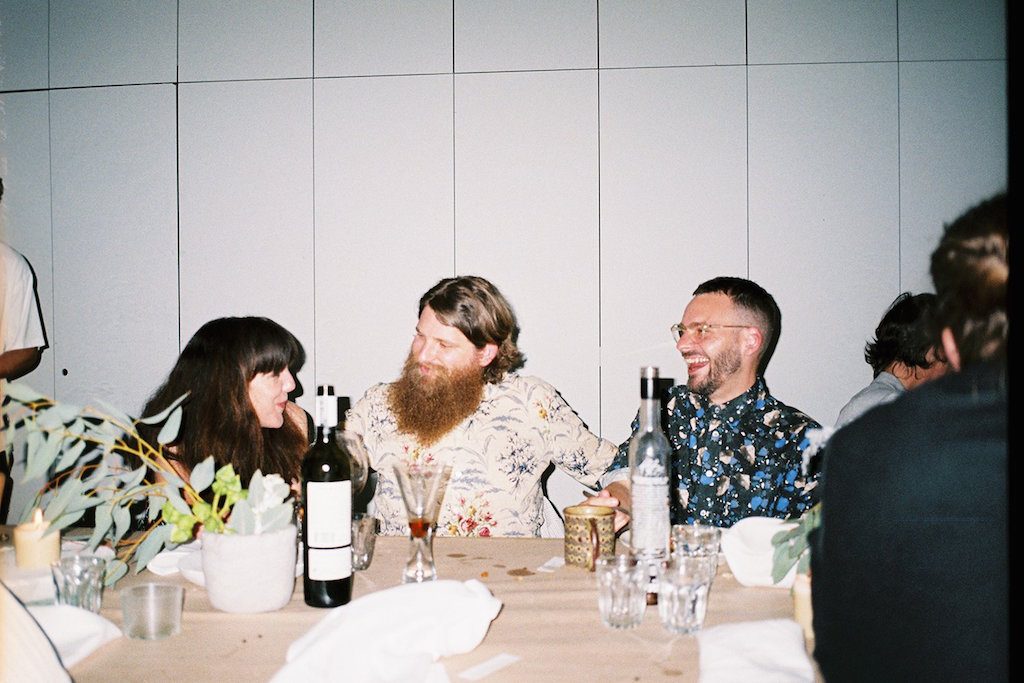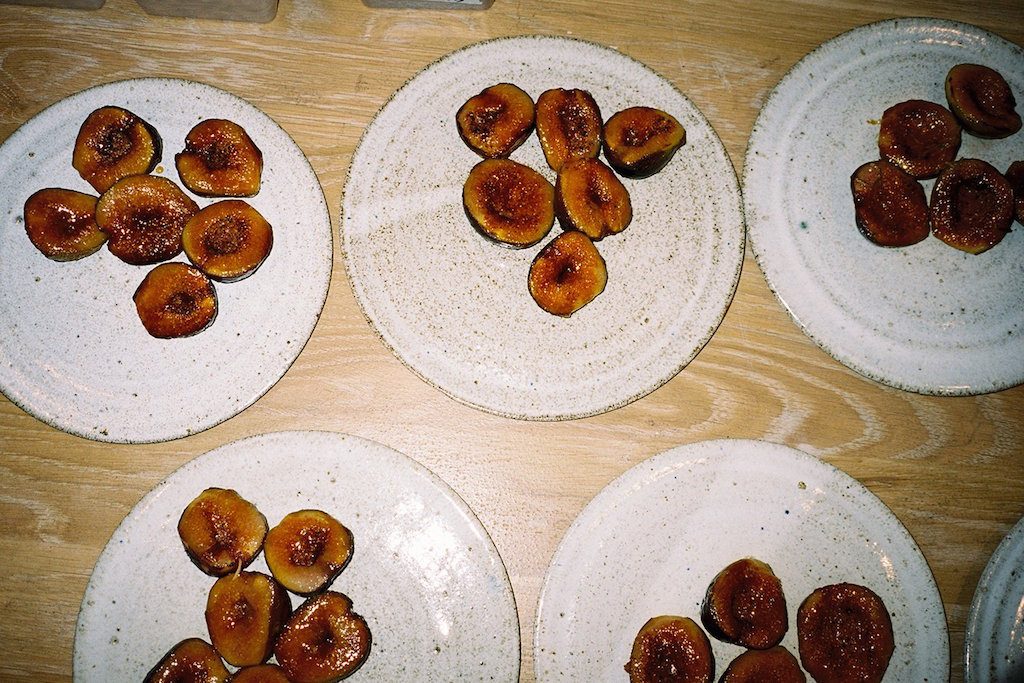 The meal was cooked by Monster kitchen and bar executive chef Sean McConnell. The menu was made through the process of exchange. Martino shared a collection of textures and tastes with Sean, and Sean wove these throughout the meal. Guests tasted bitter, raw and pickled foods with flavours including lemon, anise, cumin, fennel, chilli, coriander and ginger.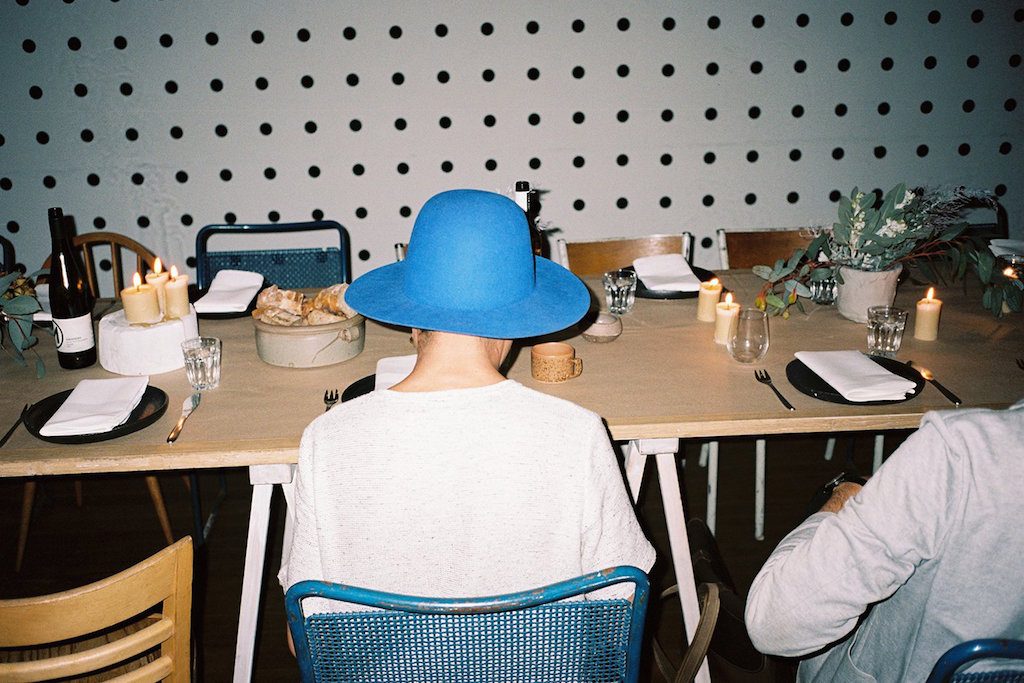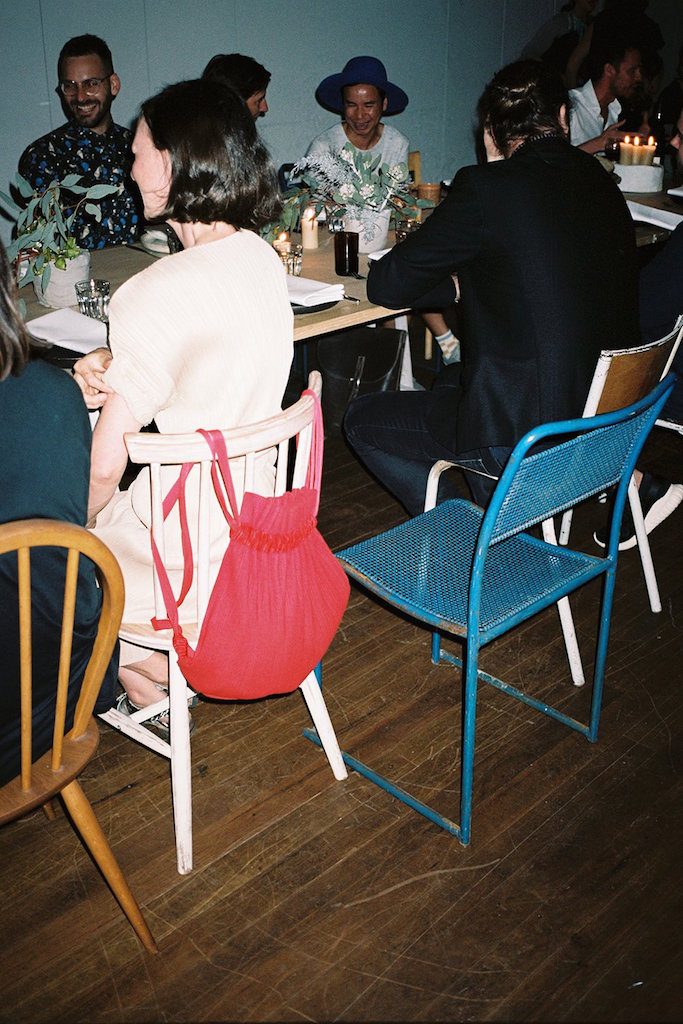 THE MENU
To start
Raw and pickled vegetables, bagna cauda
Whipped bottarga, semolina crackers
Gin cured kingfish, cucumber, dill, watercress, horseradish
To share
Heirloom tomatoes, tamarind, chilli
Bitter leaves, lemon, pangrattato
Broccoli, barley, miso, sunflower
Steamed Daintree barramundi, cabbage, pickled daikon, shichimi togarashi
To finish
Spiced figs and mascarpone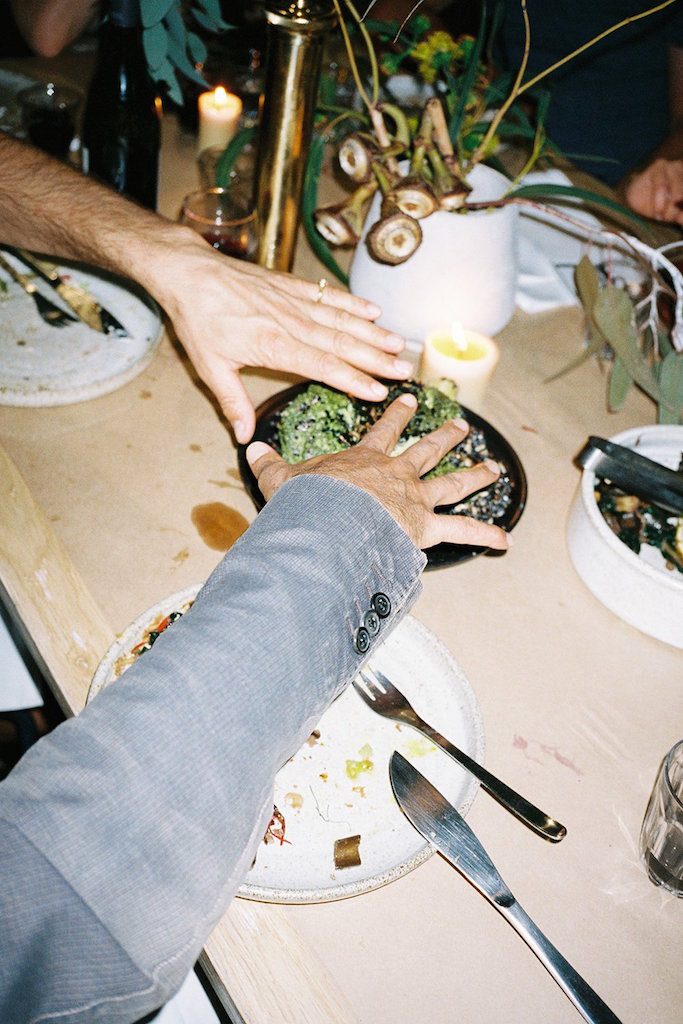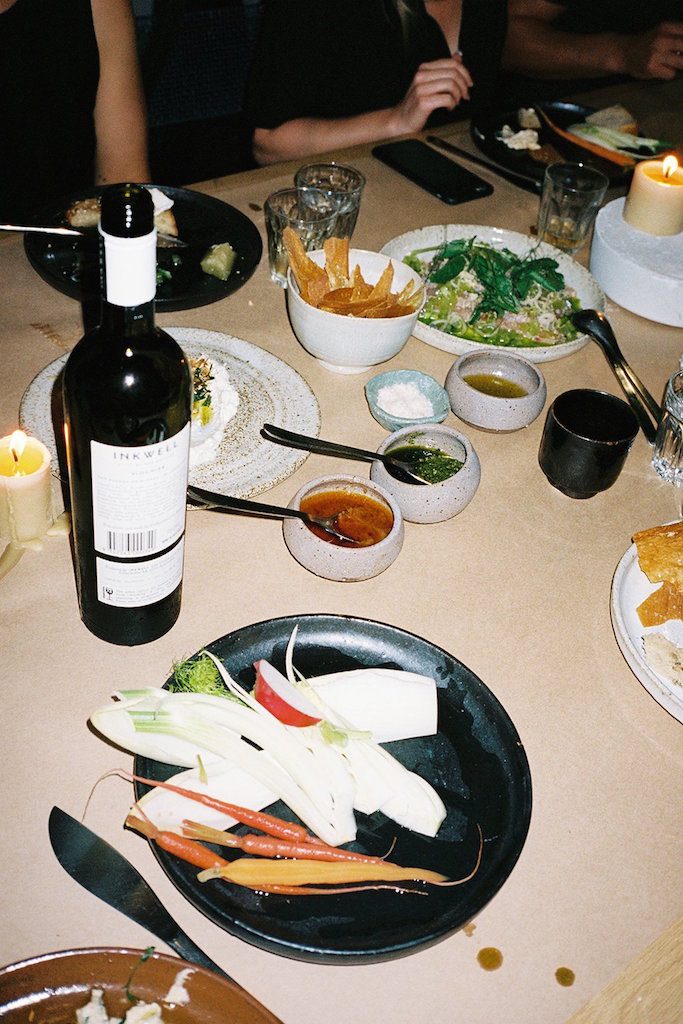 The atmosphere was informal, purposefully without fanfare to encourage comfort. Dishes were made for passing around and wine was placed on the table for guests to help themselves, like they would at home.
The music was curated by Michael Kucyk from Noise in my Head. It was a collection of music from some of the different cultures that make up Australia as we know it today.
Melanie Stapleton from Cecila Fox arranged the flowers and created a large-scale eucalyptus and banksia installation on the outdoor terrace. The table arrangements were wrapped in paper and given to guests on departure.
Shared Meals
Some people say there are some things that you should never talk about over dinner. We don't say that. This project brought people together to talk about things we might not ordinarily discuss.