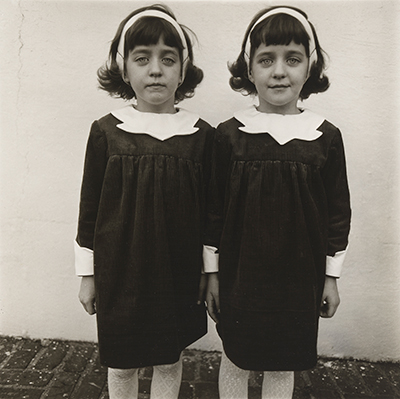 Diane Arbus – American portraits
The photographs of Diane Arbus (1923–1971) are powerful allegories of postwar America. Once seen they are rarely forgotten. Contemporary audiences found the way that Arbus approached the genre of portraiture confronting and her work continues to polarise opinion. The images raise difficult, uncomfortable questions concerning the intent of the photographer.
Arbus had a huge curiosity about the society around her; her favourite thing was 'to go where I've never been'. As she was a photographer, this manifested as an obsessive exploration into what it means to photograph and be photographed, and what can happen at that moment of exchange—something elusive and a little bit magical. Whether Arbus is an empathetic champion of the outsider, or an exploitative voyeur, is something that each viewer alone must decide.
The National Gallery of Australia's collection of Arbus photographs is among the most impressive in the world. The NGA is extremely fortunate to have bought 36 rare, vintage prints in 1980 and 1981, from the earliest releases of prints from the Arbus Estate. These works are from the last decade of the artist's life, the period in which her recognisable style is in full flight and she was in total control of her medium. This is the first time that all 36 images have been displayed together.
These rare prints are shown alongside photographs by others who also sought to redefine the tradition of portraiture, and whose vision of America is also both challenging and moving. The work of these photographers relates to Arbus in a variety of ways: they are influencers, contemporaries or heirs to aspects of her worldview. Like Arbus, they are keen, singular observers of their worlds, transforming the sometimes banal and ugly into images of unexpected beauty.
| | |
| --- | --- |
| When | Until Sunday 30 October |
| Where | National Gallery of Australia |
| More | NGA |
It's best to double check that events are happening – sometimes things don't go to plan.
"Stercus accidit." — David Hume.