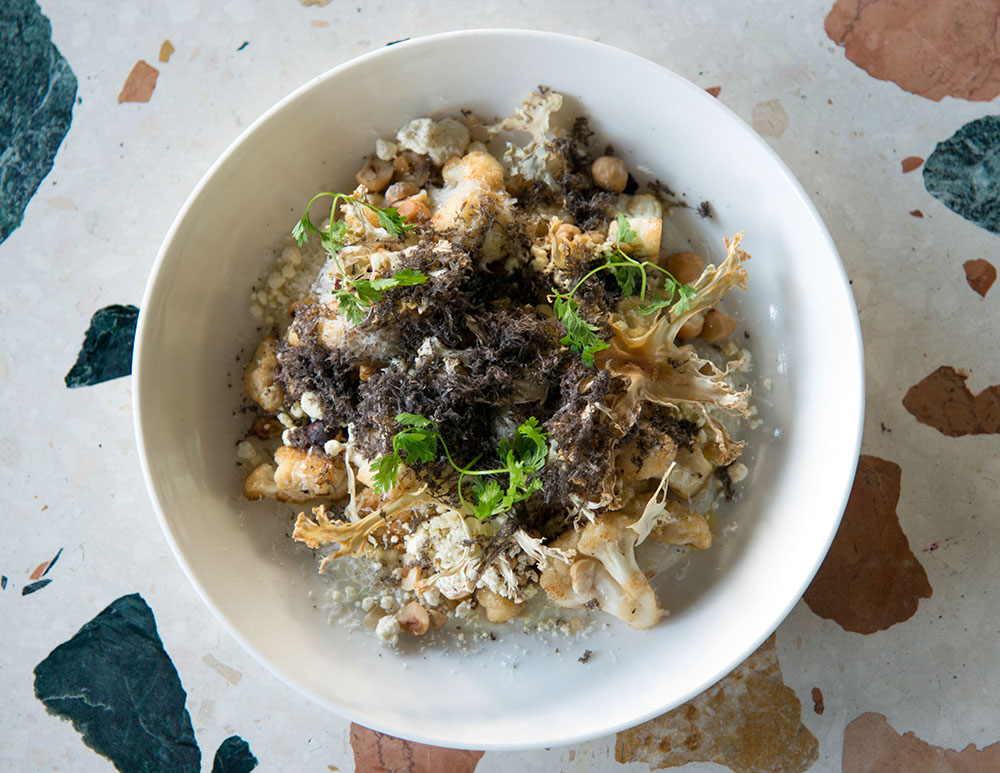 Cauliflower with hazelnut, burnt butter, reggiano and truffle
Serves 6
Ingredients
Dehydrated cauliflower

2 large cauliflower florets
Vegetable oil for deep frying

Cauliflower and truffle puree

4 diced shallot
2 sliced garlic cloves
4 thyme sprigs
2 bay leaves
2 litres of milk
10 grams black truffle
Salt and pepper

Parmesan custard

150 grams Parmeggiano Reggiano
250 ml water
250 ml milk
4 egg yolks

Powdered burnt butter

1 cup salted butter
Tapioca Maltodextrin

To finish and serve

½ cup roasted hazelnuts
Fresh black truffle
250 gram cauliflower florets
Clarified butter
Salt and pepper
Method
Dehydrated cauliflower
Steam the cauliflower florets for 8 minutes then refresh in iced water. When completely chilled, slice the florets lengthways 1mm thick with a Japanese mandolin, lay the cauliflower slivers on dehydrator trays and dehydrate for 6 hours at 55°c.
If you don't have a dehydrator – lay the cauliflower slivers on a tray lined with baking paper and place in the oven on it's lowest setting until crisp. Heat the vegetable oil to 170°c and fry the dried cauliflower slivers a few at a time until puffed and golden. Season with sea salt and set aside.
Cauliflower and truffle puree
Sauté the garlic, shallot, bay leaf and thyme in the butter over medium to low heat until soft. Add the cauliflower and pour over enough milk to cover the cauliflower.
Season and reduce heat to low and simmer until cauliflower is soft, about 20 minutes. Drain the cauliflower and discard the thyme and bay leaves, blitz using a thermomix or a stick blender adding a little of the cooking liquid as you go to achieve a smooth consistency.
When you've reached the desired consistency, add the fresh truffle and continue to blitz until completely incorporated.
Check seasoning and set aside.
Parmesan custard
Combine the milk, parmesan and water in a thermomix and mix on speed 4 temperature 60 for 10 minutes. Blend for a few minutes on maximum speed until completely incorporated. Add the egg yolks and continue to blend on high speed and increase the temperature to 80°c. Continue to blend for 5 minutes. At this stage the parmesan custard will have appeared to split and curdled, never fear. Refrigerate the parmesan custard until completely chilled and then return to the thermomix and blend on high until the custard is velvety and smooth.
Place in a piping bag and set aside.
Burnt butter powder
Burn the butter by placing in a small saucepan over high heat until the butter starts to caramelise. Strain the burnt butter and set aside to cool. When completely cool, start incorporating the maltodextrin to absorb the oil. Keep adding maltodextrin, whisking constantly until the powder is light and fluffy.
To finish
Sauté the remaining 250 gram of cauliflower florets in clarified butter over medium to low heat, stirring occasionally. Season as you go and when the cauliflower is soft and caramelised. Place a spoonful of cauliflower puree in the centre of a bowl, scatter the caramelised cauliflower over the puree, arrange a few slices of fried cauliflower on top and a few roasted hazelnuts. Pipe a few large dollops of parmesan custard around the cauliflower pieces, sprinkle over the burnt butter snow and finish with a few chervil sprigs and the freshly shaved black truffle.