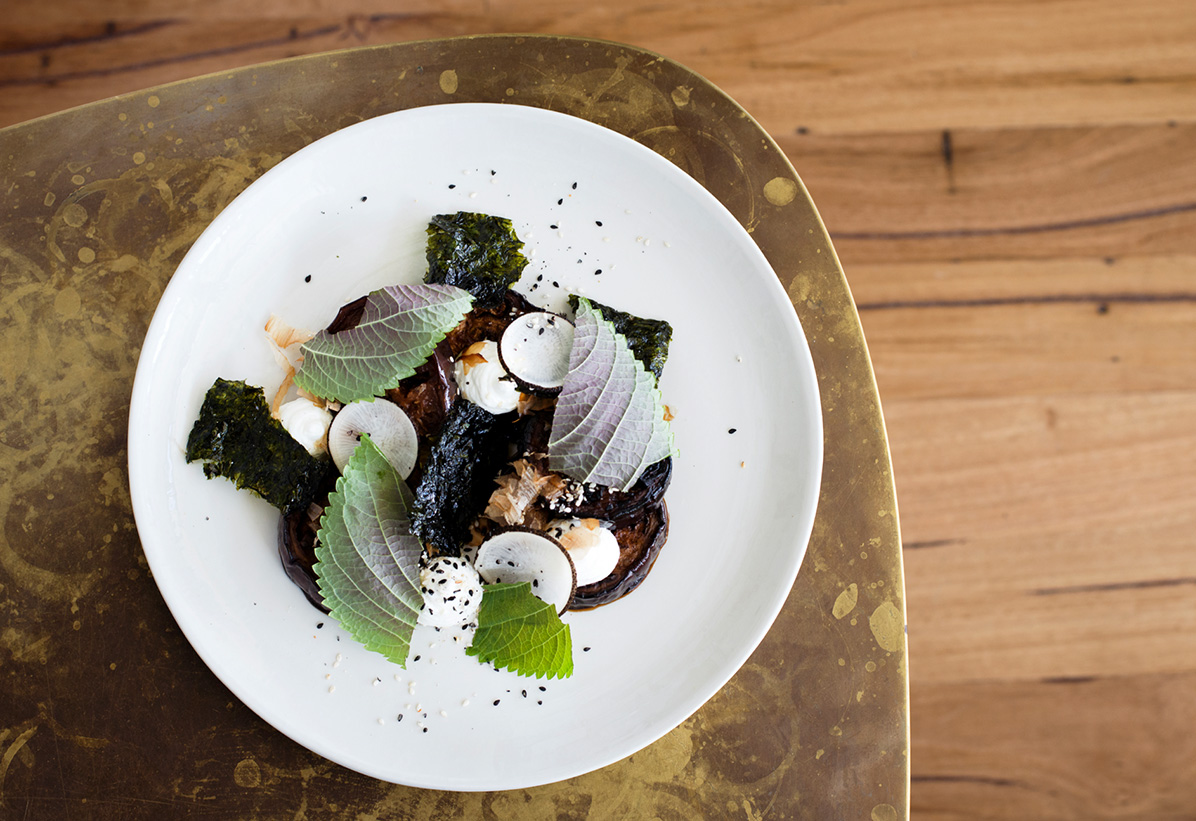 Eggplant, smoked goat's curd, katsuobushi and sesame
Serves 6
Ingredients
3 eggplants
Sea salt
Vegetable oil
1 tablespoon black sesame seeds (lightly toasted and gently crushed)
1 tablespoon white sesame seeds (lightly toasted and gently crushed)
1/2 bunch shiso
2 or 3 black radishes (sliced thinly on a mandolin)
Some nori sheets
1/2 cup light soy
1/2 cup rice vinegar
2 tablespoons white sugar
1 cup of goats curd
1/2 cup Smoking chips
Katsuobushi (dried bonito flakes, any good Asian grocer stocks these)
Method
Smoked goats curd
In the restaurant we have a smoker but at home you could use a Webber or a Chinese steamer. Line a steamer basket with cheese cloth and add the goat's curd. Place the smoking chips on a layer of foil in a saucepan (choose a saucepan that the steamer sits snug on top of so not too much smoke escapes).
Heat the smoking chips over a medium flame. When starting to smoke, ignite the chips and allow to burn until all the smoking chips are evenly alight. Remove from the heat and snuff the flame out by placing a lid on top. Once the flame is out, quickly remove the lid and place the steamer basket with the goats curd on top, allow the smoke to slowly dissipate (about 15 minutes). If all this seems like too much effort, straight goat's curd will do. Transfer the smoked goat's curd to a piping bag and refrigerate.
Marinated eggplant
First salt the eggplant. Slice the eggplant widthways into 1 inch thick slices and sprinkle fairly generously with salt. Leave the eggplant salting in a colander whilst you prepare the marinade. Combine the rice vinegar, light soy and sugar, heat just until the sugar is dissolved, set aside. Back to the eggplant, completely rinse the salt off under running water and pat dry. Heat about 3 tablespoons of the vegetable oil in a large pan and fry the eggplant slices until nicely caramelised on both sides and cooked through. This could also be done on a hot grill on a BBQ. When all the eggplant is cooked pour over the soy marinade and allow it to marinate for an hour or so.
To assemble and serve
Remove eggplant from marinade. Arrange the marinated eggplant on a serving platter and pipe the goats curd randomly over the eggplant. Sprinkle the toasted sesame seeds over the marinated eggplant, scatter the radish slices, tear some of the shiso leaves and nori sheets over the top and finish with the katsuobushi shavings.