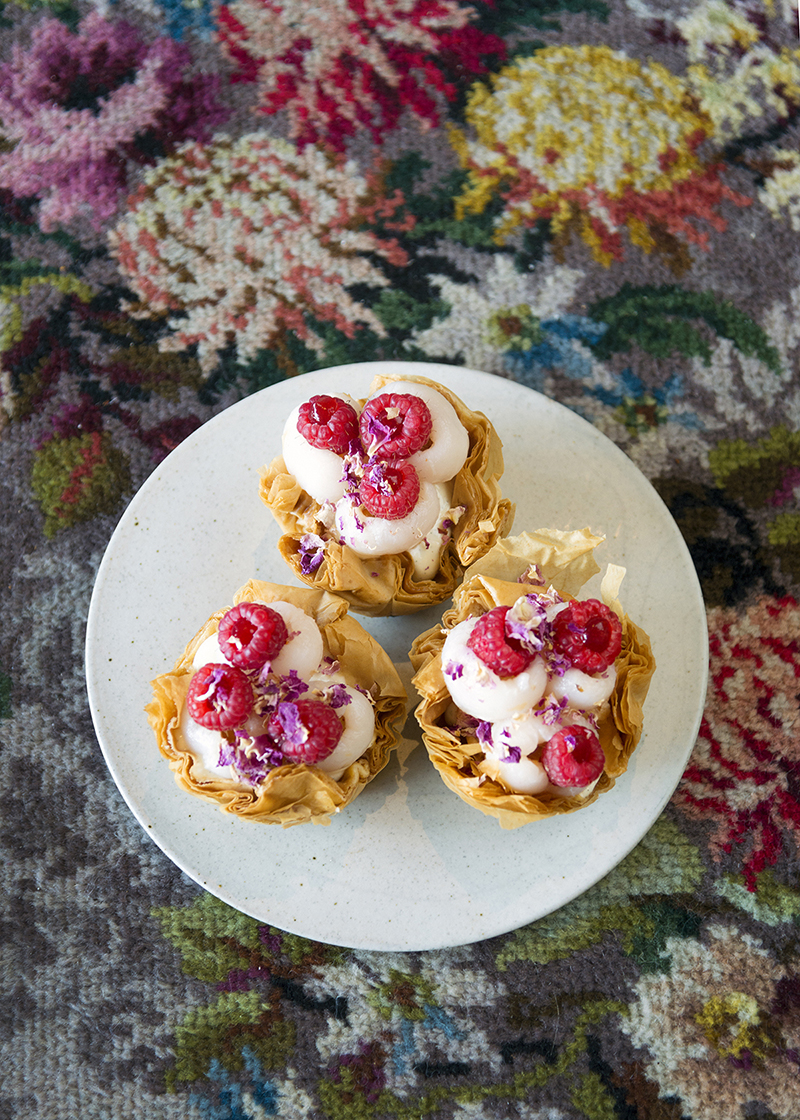 Angélique's raspberry, lychee and rose tartlets
Makes 6
Ingredients
Crust

Filo pastry
100 grams of butter
50 grams of icing sugar

Ricotta cream

200 grams fresh ricotta
200 grams Philadelphia cream cheese
1 tablespoon rose water
1 vanilla pod
100 grams of icing sugar

Toppings

One punnet of fresh raspberries
1 tin lychees
Rose petals (you can find dry ones at Essential Ingredient or dry your own from your garden).


Method
Crust
Making your own filo pastry takes a long time so I propose you use the shop bought Fillo Pastry brand. It has a nice crunchy texture and you can get it at most supermarkets.
Set yourself up on your work bench and lay the pastry flat. Separate the sheets with lots of care and brush each sheet one with the melted butter and sprinkle icing sugar over them to sweeten the crust. Repeat this with ten sheets and lay the sheets one on top over the other.
Just a side note on butter. Contrary to popular belief, butter is not the villain everyone says it is, especially if you use real, good quality butter. I suggest the unsalted Pepe Saya, it's perfect.
Work quickly as the filo pastry tends to dry out.
Then cut the sheets in two length wise and in three width wise, this will give you six bases. Put each one into a baking tin that are around 5 centimeters in diameter (a muffin tin will work).
Don't forget to press the base all around the tins to avoid them cooking into a funny shape.
Now it's time to bake them at 180° Celsius for 10 to 15 minutes.
Ricotta cream
Use an electric mixer and the paddle attachment to gently work the cream cheese for five minutes.
Then add the sugar and vanilla with love.
Before adding the ricotta the cream must be soft and fluffy. If it is go ahead and finish it with the secret ingredient – rose water.
Toppings
Take your filo cases out of the oven and let them cool a little. Then fill them to the top with the ricotta cream. Depending on how you feel top with as many lychees and raspberries as you want.
Arrange them and decorate them with the rose petals. These are really nice served with vanilla ice cream or berry sorbet. Or you can drizzle them with honey and eat them as they are.