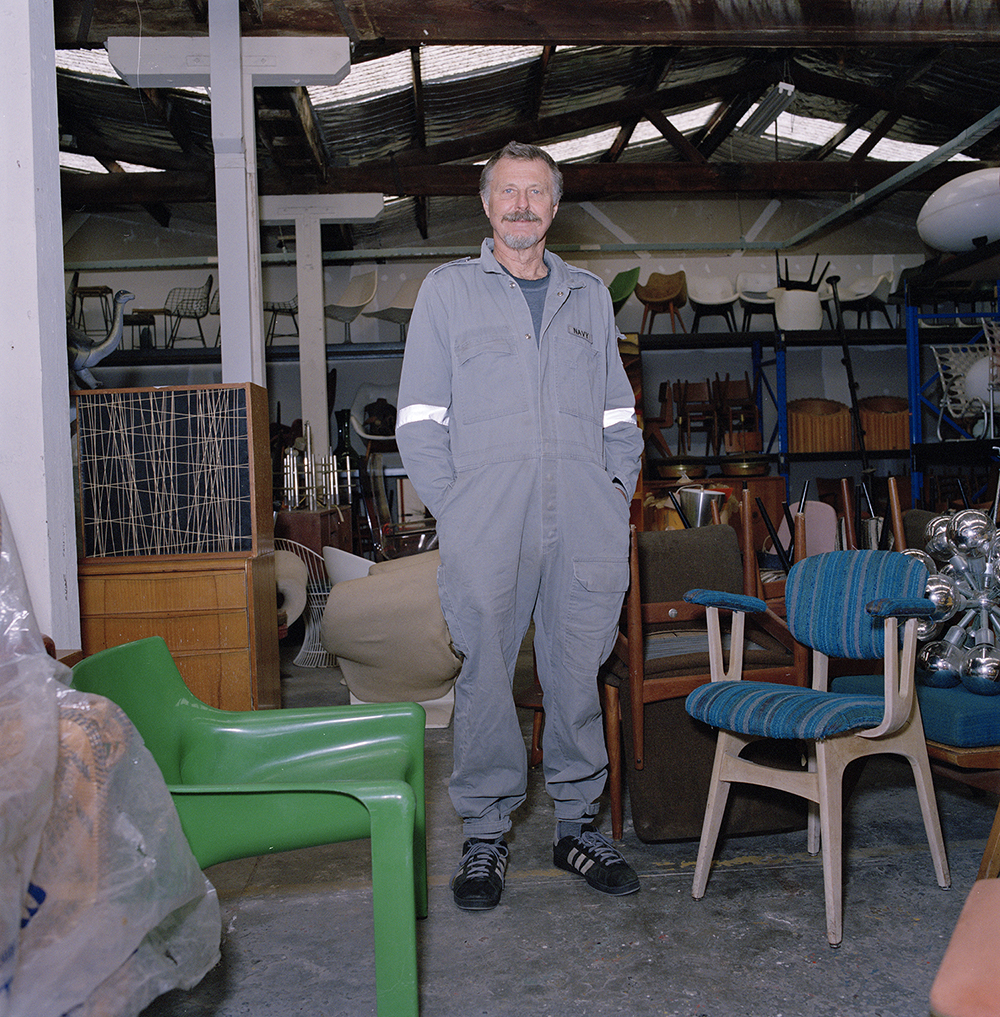 Stop talking to me Ken now I have too many things to say about you
Ken Neale is not your average furniture dealer. For starters he doesn't actually seem overly enthusiastic about parting with any of his furniture or precious objects. It took us a while to get him to supply us with furniture and work on helping to curate Hotel Hotel.
Ken is probably best described as an obsessive collector. Ken's furniture obsession began when he drove around New Zealand for two years, collecting furniture without any idea of what he would do with it. And so it goes. He has been collecting mainly discarded (now treasured) Australian and New Zealand mid 20th century furniture and objects for the past 30 years…yes that right 30 years… and stockpiling it in his warehouse, waiting for the Armageddon that may one day destroy the upholstered race. Don't worry; there will be enough for everyone. He even has a collection of his own hair from over the years, but draws the line at toe-nails, "That's just strange"… Er, yes…it is…
Ken sees furniture and objects as beautiful beings that whisper (and I quote) "take me home" in Ken's ear; the way he says it you can actually imagine them giving him bedrooms eyes. He gets a noticeable full body frisson when he sees something arranged the way he likes.
To describe Ken as a furniture dealer or even revised, as a collector still isn't an accurate description. It's hard to properly describe him because as our conversation goes on there are so many things that can be said. He is one of the cheekiest dudes I've ever met, his playfulness is contagious; he used to be a professional gardener in Greece and in London; he started out collecting vintage shirts with his mum; he has a ridiculously good knowledge of different aesthetic, art and design movements, and plants…While we talked outside the front of his little shop we kept getting interrupted by people stopping for a chat, he connected with each one about different things.
Ken is more of an artist in the way he regards the importance of objects; not regarded according to their market worth or their place in the design world, but for their feel. Artist sounds grandiose; which Ken is not; but it's hard to find a better descriptor that encapsulates his earthiness, his warmth, and his ability to see how things (not just objects) fit together in the world. In his meandering, detour of a conversation (that always abuts to somewhere interesting) Ken get a fervent look in his eyes as he talks about the impact of things en masse and suddenly says: "How good would it be to collect newspapers over years and years, one for every day; and then stack them in a room, fill it so full that you can't even get in there!"… Yes that would be fricking awesome Ken, please do it.
He attributes equal importance to pieces of furniture, objects, ties, shoes, pieces of coral, seed pods, a giant palm leaf, arrangements of eucalyptus flowers, glasses of the drinking and also the eye variety, outdoor umbrellas…
Ken has an amazing eye for curation, but true to form (i.e. hard to describe) it isn't in the typical schmick designy type way. He explains his ethos for arrangement as being pretty simple: if they are amazing pieces they will look good together.
There is more to it though. As you watch him faffing around in his warehouse of beauties this becomes obvious. His warehouse is a place of assembly, disassembly, and curation. He will move a piece of furniture or an object because they are getting too much sun, or because they are at risk of getting wet; but also he moves things around because where they sit is just not quite right. It is also obvious when you see his intensely lovely flat: a crazy mix of objects, plants, textures, books and furniture, on a backdrop of what most people would call a mid-renovation; but that Ken happily and humbly calls home.
With his crap loads of charisma and his grasp on all things beautiful I can totally picture him as the leader of a cult aptly titled "The Cult of Uncontrived Beauty", running around making people food in his rustic, wholesome cooking style, arranging masses of native Australian flowers on the dining table, showing people that the true meaning of life is a meal with friends after a nice long sauna session. He'd be the first to try the green kool-aid just to see if it's got the same effect as peyote.
If you ever want to sweet talk a beautiful piece of furniture out of Ken's hands he has a little shop in Darlinghurst called Twentieth Century Modern at 114 Burton St. He opens shop on Fridays from 12 to 5pm and Saturdays from 12 to 6 pm…or give him a buzz and he'll come down and meet you…have a chat…and probably feed you raw green beans… For a good time call 0410463121.