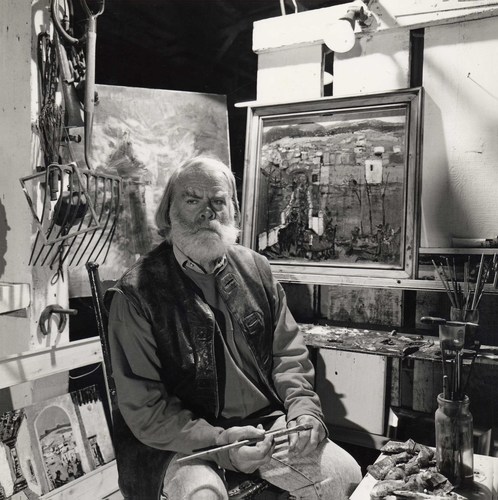 Gerard Havekes
Gerard Havekes' tiles are lain at the Monster kitchen and bar – inside and outside the Mosaic room.
Don Cameron (Hotel Hotel contributing curator) was first introduced to Gerard Havekes' ceramic work through mid-Century collector Ken Neale (also Hotel Hotel contributing curator). Don instantly appreciating its raw, textured aesthetic and naive brutality. The chromatic palette and metallic glazes are rarefied.
Don engaged in a two-year negotiation with Havekes' family about the sourcing of the remainders, overages, and Gerard's unrealised ceramic works; and how best to put them together. The result is two beautiful patchworks of collected ceramic tiles.
Gerard Havekes was born in s'Hertogenbosch, Southern Holland, in 1925. Apart from military duties during WWII Havekes was a lifelong artist.
Part of the wave of European migration to Australia that occurred in the wake of WWII Havekes migrated to Australia in 1950. At first, Havekes was a factory worker, making car parts and band-aids, and he also worked as a cleaner, mail sorter, builder's labourer and nurse. At night he would paint and sculpt. During this time he had successful exhibitions of his expressionist paintings at the Bissietta Gallery, the Lady Marion Hall Best Gallery and the David Jones Gal­lery. He also attended the East Sydney Technical College with a view to developing skills in ceramics.
Havekes gleaned some basic technical knowledge but left to further develop this medium on his own, quickly establishing individual style. Working closely with interior designers and architects such as Peddle Thorpe & Walker and Kahn & Finch, Havekes integrated his work, for beautification, into the exteriors and interiors of numerous large building projects in major cities and regional towns such as Broken Hill.
Havekes acquired kilns, learnt how to mix glazes and to fire clay and create his own, handmade variety. He was probably the first in Australia to do this on a significant scale.
He continually remodelled and refurbished his Kenthurst home and it was often featured in magazines such as Belle, Vogue and House & Garden, with some calling it "the most photographed house in Australia''. The house was a fluid, ill-defined mix of work studio and living quarters. His ceramic studio comprised of nine electric kilns built and modified by Havekes himself.
Moving to a huge warehouse in Leichhardt in the late '80s allowed Havekes to be more involved with the city. He continued to work with ceramics and paint, drawing, sculpting; and during this period he also developed a practice in large-scale, three-dimensional tapestry. These works were made in Hong Kong, where he travelled to supervise their construction. There are two in the foyer of the United Overseas Bank building in Martin Place.
Havekes passed away in 2011.