FIX AND MAKE MARKET
(Free event) Sat 07 Nov 2015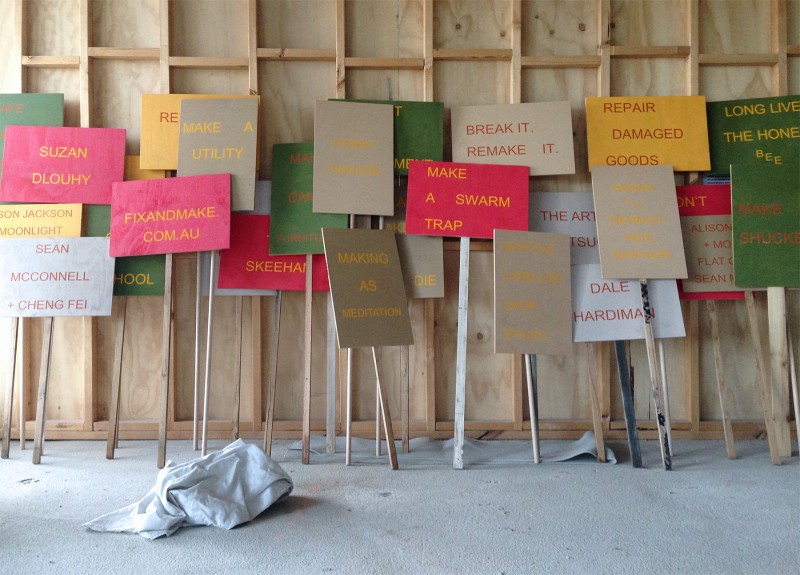 | | |
| --- | --- |
| TIME | 10AM – 2PM |
| DATE | Sat 07 Nov 2015 |
| PLACE | Nishi gallery, Canberra |
| COST | Free |
A day of eating, meeting, making and music. Free entry.Come browse and eat your face off at the food market.And meet some of our collaborators who will be doing things like…
Making instruments from rubbish – Dylan Martorell.
Whittling life long chopsticks – Tom Skeehan.
Making ad hoc camp furniture from branches – Dale Hardiman.
Setting up swarm traps (safe houses for bees!) – Many Many and Honeyfingers.
Sewing utility aprons from old jeans – Suzan Dlouhy.
Clothes repair, redesign and swap – Valerie Kirk, Jacoba Ban Lith and Nina Gabor.
The different stages of making an oyster shucker – Alison Jackson.
Glass reshaping – Richard Whitely.
Knife sharpening – Cheng Fei.
Pickling and preserving – Dan Flatt.
Kintsugi ceramic repair – Naomi Taplin.
Weaving by Erub Arts artist with Melanie Katsalidis of Pieces of Eight.
Eat / Drink / YUM
A. Baker
Barrio Collective Coffee
Beekeeper Dermot AsIs Sha'Non
Choku Bai Jo
East Coast Wild Flowers
Juniper bar (cocktails!)
Lark Hill Winery
Močan & Green Grout
Moonlight Flat Oysters
Monster kitchen and bar
Oz Harvest
Palace Cinema (choc tops!)
Parlour Wine Room
Smith's Free Range Eggs
Stone & Wood Brewery
And more : )
All Fix and Make program attendees get 15% off their stay at Hotel Hotel. Book via hotel-hotel.com.au using the booking code HHFIXANDMAKE. Fine print – subject to availability and not available on Saturday or parliamentary sitting dates.
WHAT TO BRING
? A friend or two or three
WHERE
? Nishi gallery
17 Kendall Lane
NewActon
ACT  2601